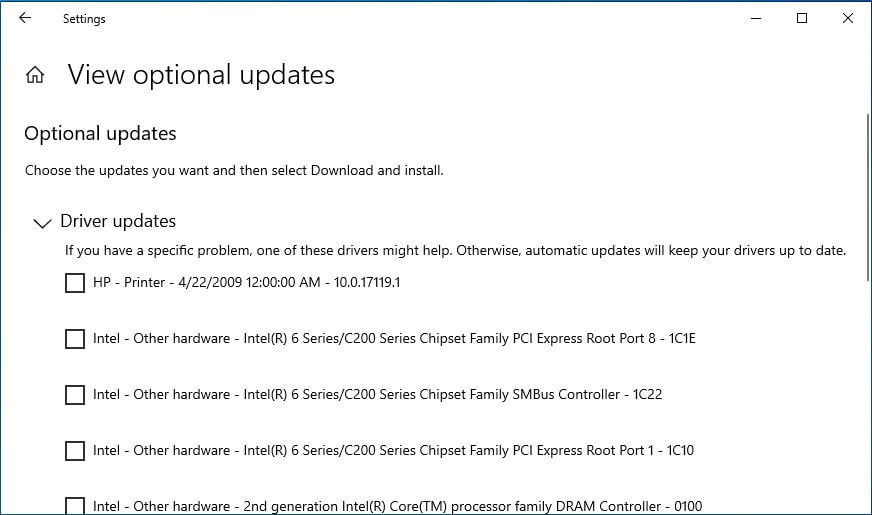 More choices for hardware developers
Microsoft is allowing hardware developers to mark their drivers as 'Automatic' or 'Manual' to specify how drivers should be delivered to Windows users. If a driver is set to Automatic, it will be included in Microsoft's normal Windows Update experience and automatically downloaded and installed on applicable systems. This allows hardware developers to roll out new drivers and test them with a small amount of Windows users for reliability before pushing them out to a wider audience.
"Allowing Automatic drivers to be offered to Windows 10 clients during throttling via the new Windows Update UX, enabling support teams to quickly address driver issues in the field without waiting for a full release."
If a developer marks a driver as 'Manual', the driver will be considered optional and only appear in Windows 10's new Optional updates interface. Microsoft believes these changes will help their customers "get the highest quality, and most reliable drivers faster and with less friction." These changes are scheduled to go live before 5:00 PM on February 19th, 2020 PST and will most likely be enabled through server changes on Microsoft's end. As of right now, these changes are not visible in Windows Update on Windows 10 1909.
Starting today, Microsoft will begin rolling out the new Windows 10 optional updates experience that allows users to pick and choose what non-security updates and drivers they wish to install. In September 2019, it was reported that Microsoft was introducing a new section to Windows Update called 'Optional updates' that contains all of the optional updates and drivers that are not required for the proper functioning of Windows. Users will be able to access the new Optional updates interface through a link in Windows Update titled 'View optional updates'. Once clicked, users will be shown a list of optional drivers and updates that they can install if they wish.