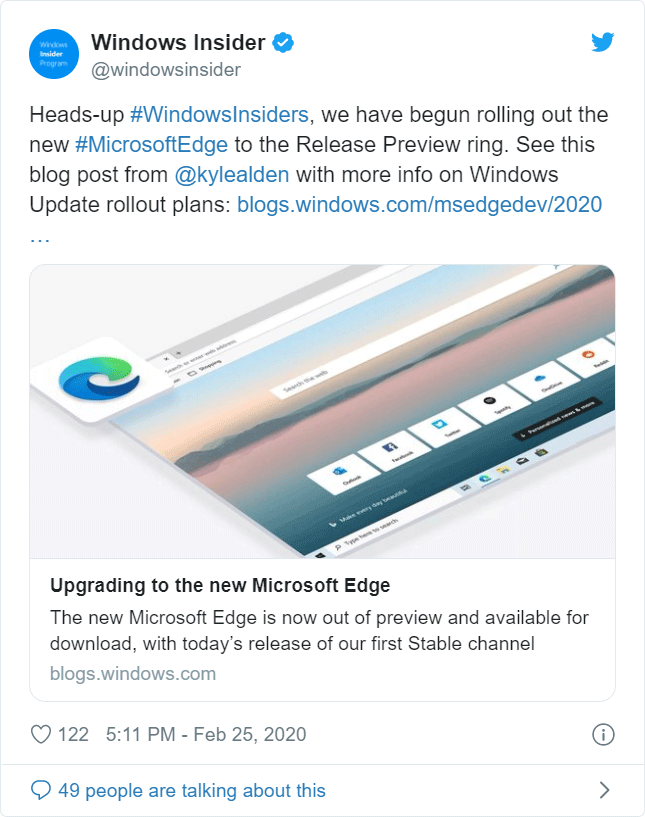 Italian Microsoft news site, 
aggiornamentilumia.it
, has already seen Windows Update pushing the new Chromium-based Microsoft Edge as the KB4541302 update. This update is not available in the Microsoft Catalog.

It is important to remember that when the new Microsoft Edge is installed, it will remove Microsoft Edge Classic from Windows 10. It is possible, though, to block Windows 10 from installing the new Microsoft Edge via Windows Update, which is described in the next section.
Block Windows Update from installing Microsoft Edge
If you do not want Microsoft Edge to be installed automatically by Windows Update, you can configure a 'DoNotUpdateToEdgeWithChromium' value under the 'HKEY_LOCAL_MACHINE\SOFTWARE\Microsoft\EdgeUpdate' Registry key and set it to 1. Alternatively, you can copy the following text into a Registry file and use it to make the changes for you.
Windows Registry Editor Version 5.00 [HKEY_LOCAL_MACHINE\SOFTWARE\Microsoft\EdgeUpdate] "DoNotUpdateToEdgeWithChromium"=dword:00000001
To use a Registry file to make the change, simply follow these steps:
Open Notepad and copy and paste the contents of the above Registry file into the Notepad.
Save the file as BlockAutoEdge.reg on your Windows Desktop.
Double-click on the file and let Windows merge the data.
This will cause the 
DoNotUpdateToEdgeWithChromium 
Registry value to automatically be created and set to 
1
 as shown below.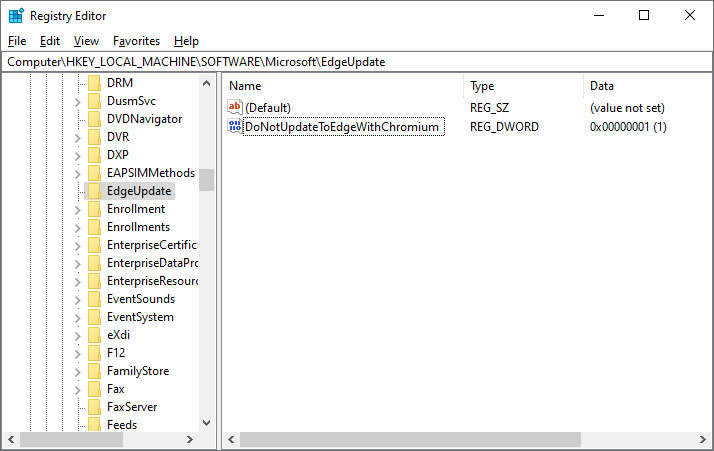 Microsoft has begun the rollout of its new Chromium-based Microsoft Edge to Windows 10 systems via Windows Update. As announced by Microsoft's Windows Insider Twitter account, this rollout is starting first with Windows 10 Insider in the 'Release Preview' ring. After a few weeks and if there are no problems, it will be delivered to all Windows 10 users.