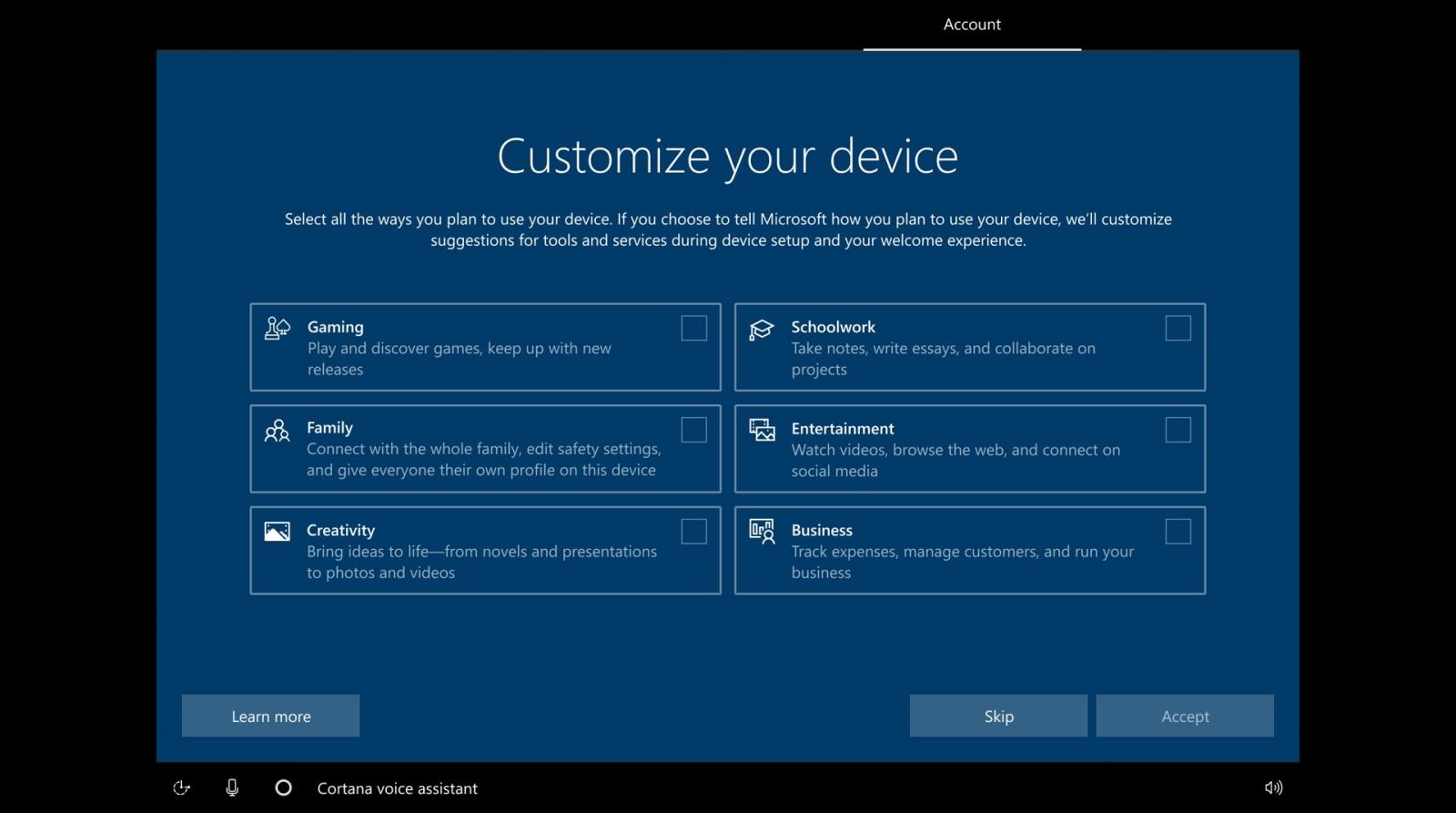 The different categories Microsoft is testing include:
Gaming – Play and discover games, keep up with new releases.
Family – Connect with the whole family, edit safety settings, and give everyone their own profile on this device.
Creativity – Bring ideas to life – from novels and presentations to photos and videos.
Schoolwork – Take notes, write essays, and collaborate on projects.
Entertainment – Watch videos, browse the web, and connect on social media.
Business – Track expenses, manage customers, and run your business.
Depending on what category you select, Windows 10 will offer different setup options and possibly install a different set of preinstalled apps or features. I am surprised that Microsoft did not offer a developer option that could automatically install Hyper-V, WSL, Python, and other developer tools. Microsoft is first testing this feature with a small subset of users in the Windows Insider dev channel as part of today's release of the Windows 10 build 20231. As time goes, they plan on rolling it out to all users in the dev channel who perform a reset or clean install of Windows 10.
Microsoft will soon offer different installation experiences when setting up Windows 10 based on how you plan on using the computer. As people use Windows 10 in different ways, Microsoft is testing a new setup screen that asks you to indicate how you plan to use the computer to customize the options and tools offered during setup. "Based on feedback, we're exploring adding a page to Windows setup (OOBE) to help better understand how you plan to use your device and aid in customizing your device given your intended usage," Microsoft announced today. This new experience will be shown as an optional screen titled 'Customize your device' that states, "If you choose to tell Microsoft how you plan to use your device, we'll customize suggestions for tools and services during device setup and your welcome experience," as shown below.