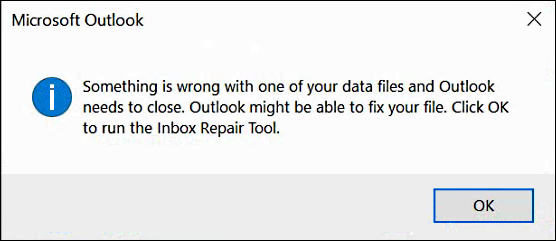 After Outlook users click the "OK" button, the Inbox Repair Tool launches and walks them through the repair process. The next step is to reboot the computer to apply the fixes and, hopefully, have the issue resolved but, instead, Outlook will again display the same error as Woody Leonhard points out.
No fix yet, workaround available
Microsoft says that an official fix is not yet available for customers using stable Outlook versions after updating to version 2005 Build 12827.20268 or later, however, an initial fix is being tested by users of Outlook Insider Beta version 13004.10000. "The Outlook Team is investigating this issue with the Windows Team," the support article 
reads
. "We are not sure yet if the primary fix will come from Outlook or Windows. When we have more information on fix details we will add them here." Microsoft does provide a workaround that should make Outlook usable again for all users and it requires modifying the registry by deleting a number of keys related to the PST document format. To do this you will have to go through the following steps:
Right-click the Windows Start button and then choose Run.
In the Open box, type regedit, and then select OK.
In the left pane, expand Computer and then expand HKEY_CURRENT_USER\SOFTWARE\Microsoft\Office\16.0\Outlook\PST
Under the PST key delete the registry keys below and then restart Outlook:
"LastCorruptStore"
="C:\\Users\\user.REDMOND\\AppData\\Local\\Microsoft\\Outlook\\*** Email address is removed for privacy ***"
"PromptRepair"
=dword:00000001
This procedure "contains steps that tell you how to modify the registry. However, serious problems might occur if you modify the registry incorrectly," Microsoft explains. "Therefore, make sure that you follow these steps carefully. For added protection, 
back up the registry before you modify it
. Then, you can restore the registry if a problem occurs."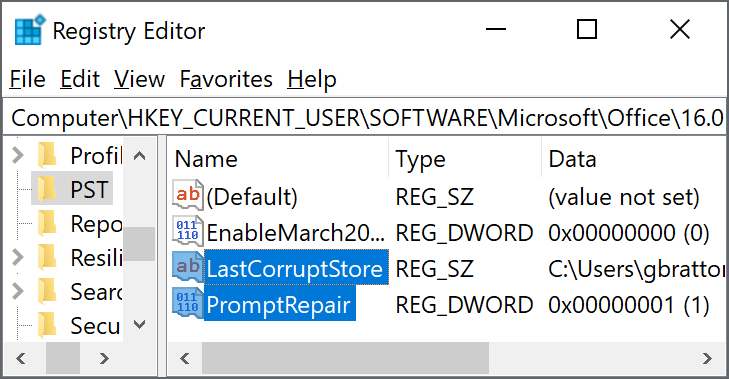 Another issue preventing Outlook and other Windows 10 programs from launching was fixed by Avast on June 13 after Avast and AVG security applications inadvertently set registry keys blocking executables from running on Windows 10 versions 2004, 1909, and 1903.
Earlier this month, Microsoft also issued the KB4484398 Microsoft Office non-security update to address an issue causing sporadic crashes in Outlook 2016 and shared folders to disappear from Favorites when customers started Outlook in an offline state. In mid-May, Redmond also started rolling out a fix for Outlook search issues affecting clients updated to versions 2004 12730.20236 and 2004 12730.20250.
Microsoft says in a support document recently published that Outlook will fail to start for some users, automatically displaying an error prompting the users to repair some inbox files. According to the company, all users who have updated Outlook to version 2005 Build 12827.20268 or higher will see an error prompt saying that "Something is wrong with one of your data files and Outlook needs to close. Outlook might be able to fix your file. Click OK to run the Inbox Repair Tool." Microsoft lists this known issue as being caused by the June 2020 updates on a support page with fixes and workarounds for recent issues affecting Outlook for PC.